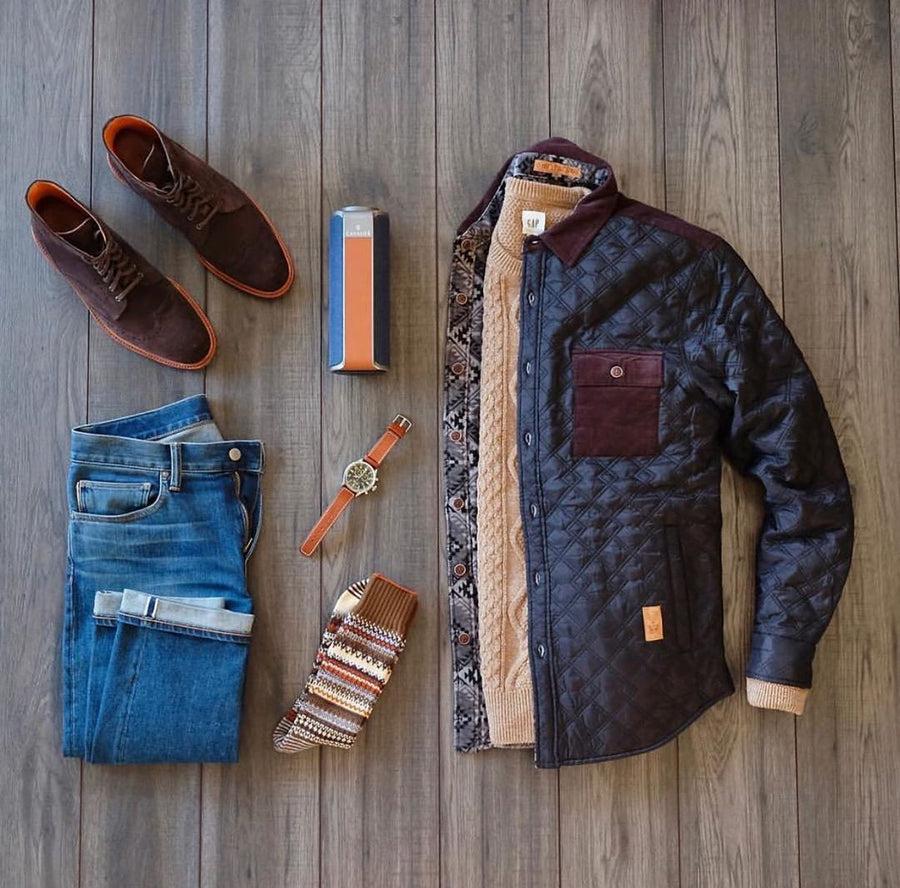 Timeless Men's Fall Fashion Styles
Fall fashion: It's so dude-friendly! Even if you're not the type to put on a plaid smoking jacket and enjoy a pipe by a crackling fire while sipping a hot toddy, there's something about autumn that brings the essence of masculinity to mind.

For those of us who shun trends, we recommend the following policy: stay classic and simple, keep fabrics natural and richly-textured, lean into warm tones, and boost style by adding layers.

A timeless look is perfect for when cold weather kicks in, because you've suddenly got room to add personality with hats, jackets, scarves, and boots. Investing in several high-quality staples will keep you looking smart year after year.

And clothing can be gotten inexpensively! We're big fans of thrift, consignment shops, or any sort of resale retail, both for budget friendliness and for minimizing environmental impact.
Consider Solid Earth Tones for Fall Fashion

Autumn is a real show-stopper of a season: the changing leaves, soft golden sunlight, and the abundant harvest evoke a cornucopia (couldn't resist) of hues. Simple solids let the harmony of colors take center stage. Incorporating several mono-color basics makes it easy to combine items while keeping the look uncluttered.
Capture the aesthetic in your wardrobe for a peak fall experience: when buying layer-able basics, turn to cozy color palette of the season, which includes umber (and other browns), brick red, ochre or mustard yellow, mossy greens, rust and pumpkin orange. 
Don't hesitate to include houndstooth, plaid, or other iconic small-scale prints in your overall plan, but use them as an accent, and avoid mixing patterns unless you're seriously fashion savvy. But if you do, rock it and enjoy the attention!
8 Best men's hairstyles for a clean-shaven face — Summer edition

Men: Let's Talk About Layers
There's something unmistakably attractive and cozy about the look of layered clothing, and (bonus) it's also practical. While the thermometer is playing around with your feelings (cold in the morning, warm in the afternoon), adapt to the changes with thicker top layers, while underlayers stay breathable and light. 
Supply yourself for the season with a mix of T-shirts with both long- and short sleeves for your base layer. Add to your inventory sweaters of varying levels of thickness, and consider incorporating a cardigan or turtleneck for MAD sweater game.

These upper body pieces make layering a snap. Keep the look consistently autumnal — and comfortably warm — by switching to wool, corduroy, and heavier denim pants and jeans.

Add to the above a dashing sports coat, a classic denim jacket, and some lightweight Oxford broadcloth button-downs, and you're good 'til spring. Remember, though, that layers add bulk. Whether you're layering or not, don't be tempted to go baggy. Wear clothes that fit a bit closer to the body for a more modern silhouette. 
While you're having fun with combining pieces, it's best to keep patterns to a minimum. Plenty of visual interest is created by the interplay of colors and textures. And on the subject of texture...
Play With Rich Fabrics and Touchable Textures
A well-stocked (autumn) closet should be a feast for the senses, especially tactile. Welcome corduroy, fleece, tweed, flannel, leather and wool into your wardrobe. Keep an eye out for higher quality natural fabrics when you can find them; the premium price will pay off over the lifetime of the garment. Remember to check vintage/thrift and resale shops to keep costs down.
Consider pairing a smartly-quilted, nylon puffer-style jacket atop a classic wool or cotton fisherman's sweater. Dress up a leather moto jacket by pairing it with a crisp Oxford shirt and crewneck pullover sweater. Don a peacoat over a fine-knit turtleneck.
Make leather or suede your choice for accessories as the air turns brisk. Change out your watch band for a leather one the color of honeyed tobacco. And don't forget to cap off the look of luxurious texture when choosing footwear (see below)!

Boots, Boots, Boots for Fall

And on the subject of our favorite fall footwear, we have a clear frontrunner: BOOTS. One of the best things about fall is the excuse to wear sturdy footwear in timeless styles. Feel comfortable, protected, and ready for whatever cooler weather adventures bring. Whether you're a fan of motorcycle boots, chukkas, moc toe styles like Red Wing, or retro hikers, boots are often an easier choice for many guys to make after a summer of sad flip flops and regrettable sandals.
Don't ignore sock choices, even if your boots obscure them. You'll want cozier, less sporty options made from natural fibers. Wool or wool-blend socks have the benefit of being both warm and sweat-wicking, and (honestly!) can be non-itchy if you seek out the right brands.
Why men have to stop shaving with straight razors
Finally...
And of course, don't forget to complete the look by attending to details. A clean shave without razor bumps, patchiness or irritation means your face looks as appealing as your ensemble.

Whether you're going for casual, dressy, or professional, don't go in looking like a woolly mammoth. Compliment your countenance and gain true savoir faire with Aqua Jet Razor, the razor that shaves using only water — for the cleanest, most natural, most comfortable shave possible.